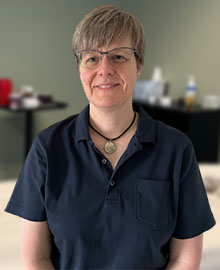 Alex completed her 270-hour training with the Anthropedia Foundation in St. Louis, MO with High Honors in December 2022. After being on her own well-being journey for about 15 years,Alex took a leap of faith to leave behind her corporate career to accompany others on their unique paths towards greater well-being.
Alex brings empathy, intuition, humor, and a calm presence to her coaching. She creates a safe and non-judgmental space for clients to increase self-awareness, and explore new behaviors and thought patterns, so you can focus on what matters most in your life and improve your overall sense of well-being.
Prior to becoming a coach, Alex spent over 20 years in Human Resources leadership roles focused on coaching and developing employees and leaders, and leading teams and organizational transformations.
Alex was born and raised in Germany, holds an MBA from Thunderbird, Global School of Management, and has lived in the St. Louis area for over 15 years. She enjoys singing, spending time with friends and family, cooking, practicing yoga, and taking advantage of the great parks and coffee shops the area has to offer.
Alex offers a free Discovery Session so clients can discuss their needs and learn more about whether coaching will be a good fit for them. Appointments for Alex can be booked using our online booking system. You may also contact her directly at (314) 435-8166.