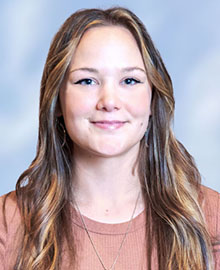 Dr. Becca Blake is a chiropractor and certified acupuncturist serving the West County area. After graduating Cum Laude from Logan University in 2021, she began practicing specific upper cervical chiropractic. After a year, she decided to pursue her passion of practicing acupuncture and herbal medicine by becoming part of the Traditional Acupuncture team.
Dr. Blake combines her Western studies of human anatomy, physiology and manifestation of diseases with Eastern holistic healing modalities. She is constantly expanding her knowledge base of alternative healing techniques, including reiki, sound therapy, breath therapy, yoga and meditation. In her spare time, she helps facilitate sound healing, yoga and acupuncture sessions across the St. Louis area.
Dr. Blake brings a highly effective and unique approach to the treatment of acute and chronic illnesses, when, in many cases, all other treatment options have failed. She has successfully treated asthma, infertility, vertigo and Meniere's, trigeminal neuralgia, back pain, chronic headaches, constipation, tinnitus, mood disorders, autoimmune conditions and much more. She would love to be a part of your journey towards health!