If You Suffer from Chronic Pain or Other Ailments, and Prescription Drugs or Conventional Medicine have Failed to Produce the Desired Results - There is a Natural, Safe, Effective and Drug Free Alternative
Book a Free TCM Exam & Consultation
I want to thank you for visiting my website, and in return I'd like to offer you a coupon for a Free Initial TCM Exam & Consultation ($50 value.)
If you, your friends, relatives or colleagues are ever in need of my care, download the coupon and bring it in on your first visit.
Your no-cost, no-obligation initial TCM exam and consultation includes:
Acupuncture is just one form of therapy used within the coherent system of healing known as Traditional Chinese Medicine.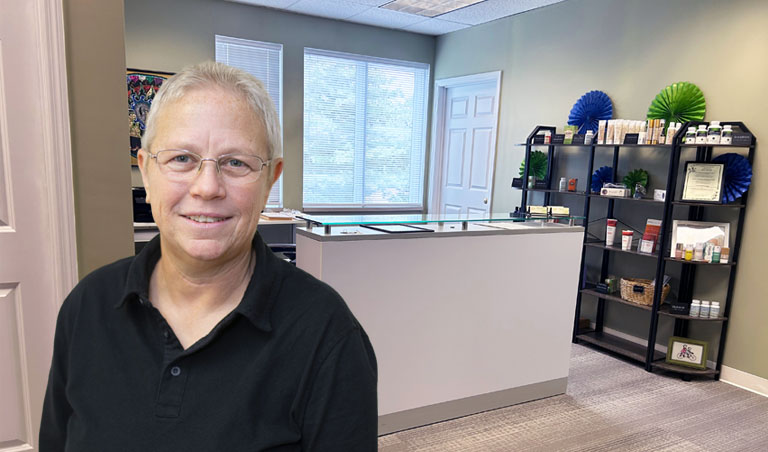 Laurie Mecham, L.Ac. is celebrating her 21st year as a Diplomate in Oriental Medicine and a Licensed Acupuncturist. She has been practicing Traditional Acupuncture and Chinese Medicine since 2001. Laurie came to St. Louis and established the Traditional Acupuncture Health Clinic in Ballwin MO in 2009. She is excited to expand her practice to include cosmetic acupuncture and microneedling in 2021.
Laurie Mecham brings all the tools of Chinese Medicine to her work: acupuncture, dry needling, cupping, Tui Na, and acupressure.  She is a master in Chinese Herbal Medicine.
Before studying Oriental Medicine, Laurie worked as a Respiratory Therapy Technician for more than a decade, serving hospitals across the country, including St. Louis University Hospital, Barnes-Jewish Hospital, Deaconess Hospital, and Cardinal Glennon Children's Medical Center.
To learn more about Acupuncture and Traditional Chinese Medicine, get my FREE Report titled: "The Truth About Acupuncture; The Ground Breaking Study That Proved Skeptics WRONG".
It's a detailed report on the history of Acupuncture that includes the latest revealing studies, and how Acupuncture and Alternative Medicine work. Just enter your name and email below and I'll send it to your right away.
"This place is the BEST! I love everyone who works here. Laurie is amazing and the receptionists are absolutely lovely. I have been working with Laurie to regain function and decrease my neck pain from a bulging disc. I immediately saw results after the first visit, and can honestly say she has given me my life back. Before I met Laurie, I was battling with my constant pain but now that my pain has decreased and almost gone away, I feel like myself again, which I am grateful for. Like I tell all my family and friends, Laurie has heeling hands!!"
-Sara
"Laurie & Michael have helped me with regaining my left sided function since my stroke. I highly recommend them for rehab or for R&R 👍👍"*
-Lyndal
"I met Dr. Blake when I hurt my back from coughing. She told me that she could do acupuncture on me the next day and we set up the appointment. I also had an infection in my mouth and she recommended some herbal pills and they have helped tremendously. I'm very happy with my experience at Traditional Acupuncture and highly recommend it!"
-Dascha
"Laurie is absolutely AMAZING!!!! I highly recommend all of her services. She's so knowledgeable, efficient and painless in her acupuncture. I always leave feeling so relaxed after a stressful day. 10/10 every time!"*
-Sarah
"Highly recommend this location if you are interested in acupuncture! Dr.Blake is very kind and professional. She listened to all of my health concerns and made me feel comfortable. I deal with blurred vision caused by MS and have already noticed improvements in only 2 visits! I leave feeling relaxed and revitalized! I'm already looking forward to my next appointment!"*
-Shilo
"Dr. Becca is incredible! Had my first session and looking forward to the next. If you want to receive treatment from a healer, Dr. Becca is the answer!"*
-Heather
Traditional Acupuncture Health Clinic
15480 Clayton Road, Suite 301
Ballwin, MO 63011
Phone: (636) 893-5048
Email: Click Here
Payment Accepted:
Visa, MasterCard, AMEX, Insurance,
Diners, Cash, Check, HSA Card
Hours:
Monday: 10:00 AM – 5:00 PM
Tuesday: 10:00 AM – 5:00 PM
Wednesday:10:00 AM – 5:00 PM
Thursday: 10:00 AM – 5:00 PM
Friday: 10:00 AM – 5:00 PM
Traditional Acupuncture Health Clinic
15480 Clayton Road, Suite 301
Ballwin, MO 63011
Phone: (636) 893-5048
Email: Click Here
Payment Accepted:
Visa, MasterCard, AMEX, Insurance,
Diners, Cash, Check, HSA Card
Hours:
Monday: 10:00 AM – 5:00 PM
Tuesday: 10:00 AM – 5:00 PM
Wednesday:10:00 AM – 5:00 PM
Thursday: 10:00 AM – 5:00 PM
Friday: 10:00 AM – 5:00 PM
Traditional Acupuncture Health Clinic