Traditional Acupuncture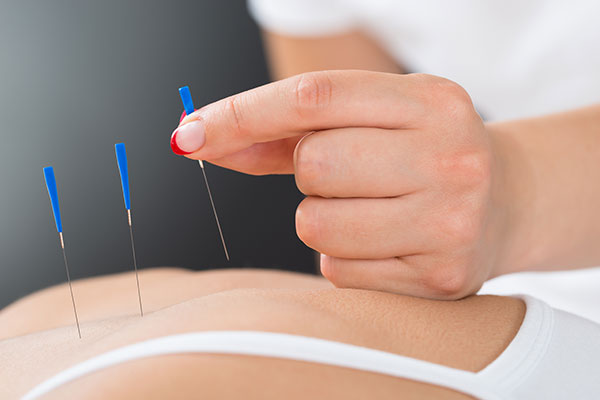 Traditional Acupuncture treats health conditions of all kinds, from basic pain to complex medical issues that western medicine is often at a loss to understand or effectively treat. Regular acupuncture, along with dry needling, cupping, TuiNa, Chinese Herbs, lifestyle changes and dietary adjustments can significantly improve or successfully treat many conditions.
Laurie Mecham, Licensed Acupuncturist, or Becca Blake, Certified Acupuncturist will address your condition uniquely and take time to find the true cause of your health concerns. Traditional Acupuncture Health Clinic employs a combination of traditional acupuncture, cupping, TuiNa, laser acupuncture, Chinese herbs, and lifestyle and dietary changes to improve not only the condition you bring to their attention, but also your overall experience of wellness. Acupuncture can treat many different health concerns simultaneously. To see some of the health conditions that respond well to Traditional Acupuncture, click here.
With Laurie Mecham L.Ac., or Becca Blake DC, CAc
Book Appointment >>
Cosmetic Acupuncture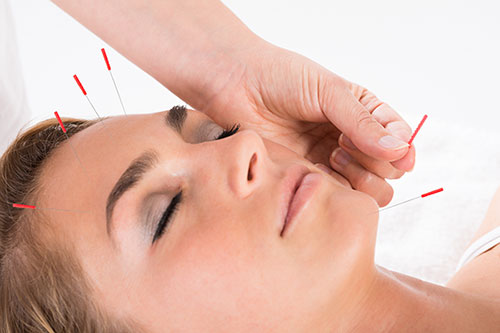 Cosmetic Acupuncture is a gentle approach to skin rejuvenation including wrinkle and sag reduction that will give you soft, firm and glowing skin. General health benefits include, but are not limited to: reduction in hot flashes, increased energy and clarity, reduced insomnia, improved digestion and a noticeable reduction in sinus problems and headaches. Cosmetic acupuncture is a non-surgical procedure that uses specialized acupuncture needles (thinner than a human hair) to stimulate collagen growth and move blood within the face and body. Treatments are painless and described as deeply relaxing. After 4 treatments, patients notice bodily improvements that last for years. Intermittent treatments after the initial 4 will continue the rejuvenation process and sustain the improvements.
Cosmetic Acupuncture includes red light therapy and jade roller. On your first treatment, we will send you home with a free sample of your customized serum.
With Laurie Mecham L.Ac., or Becca Blake DC, CAc
Book Appointment >>
Microneedling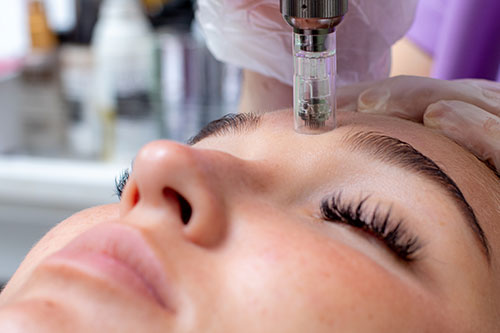 Microneedling, also called Collagen Induction Therapy, generates new collagen and skin tissue for smoother, firmer, more toned skin. Microneedling is used to target specific areas including face, hands, legs, head, blemishes and scars. Microneedling minimizes age spots and signs of aging, improves acne scarring, helps with wrinkles, treats hair loss, and tightens and rejuvenates the skin.
Our clinic uses state-of-the-art microneedling pens to perform the procedure. The tip of the microneedling pen is covered with tiny needles, barely the thickness of a strand of hair, that go to the dermis and create micro-injuries which stimulate the body to increase collagen and elastin. You can expect that your skin will be red and sensitive for a short time following your microneedling treatment.
Microneedling includes red light therapy, and the use of a jade roller. We create serums customized by Traditional Acupuncture Health Clinic for your unique skin care needs. On your first treatment, we will send you home with a free sample of your customized serum.
With Laurie Mecham L.Ac., or Becca Blake DC, CAc
Book Appointment >>
Massage Therapy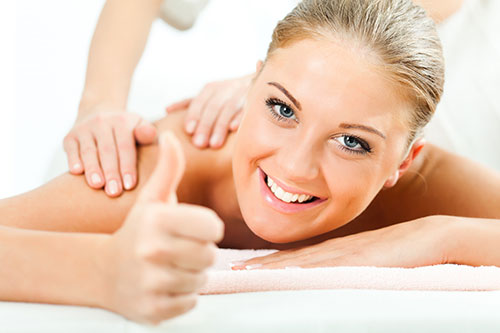 Our Massage Therapist, Michael Webb, is a Registered Polarity Therapist. Polarity Therapy is a natural health care system based on the universal principles of energy relationships in attraction, repulsion and neutrality. It arose in Ancient Eastern philosophies and is confirmed by modern Western scientific discoveries. Polarity Therapy explores the interdependence of body, mind and spirit, relationships and the value of creating a way of life in harmony with nature.
Our Massage Therapist, Pamala Gurney, specializes in Craniosacral Therapy, Myofascial Release, Trigger Point Therapy, Swedish Massage, Reiki, Deep Tissue Massage, and Stretching/Movement Re-education. With her Kripalu Bodywork certification she brings a meditative, anatomically precise, nonjudgmental touch that encourages client body awareness, general well-being and acceptance of self.
With Michael Webb, or Pamala Gurney
Book Appointment >>