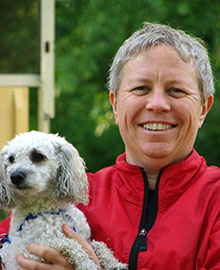 Laurie Mecham, L.Ac. is celebrating her 21st year as a Diplomate in Oriental Medicine and a Licensed Acupuncturist. She has been practicing Traditional Acupuncture and Chinese Medicine since 2001. Laurie came to St. Louis and established the Traditional Acupuncture Health Clinic in Ballwin MO in 2009. She is excited to expand her practice to include cosmetic acupuncture and microneedling in 2021.
Laurie Mecham brings all the tools of Chinese Medicine to her work: acupuncture, dry needling, cupping, Tui Na, and acupressure. She is a master in Chinese Herbal Medicine.
Before studying Oriental Medicine, Laurie worked as a Respiratory Therapy Technician for more than a decade, serving hospitals across the country, including St. Louis University Hospital, Barnes-Jewish Hospital, Deaconess Hospital, and Cardinal Glennon Children's Medical Center. With her considerable experience in both Western and Eastern medicine, Laurie is a firm believer that both systems are complimentary, despite their different approaches to health care. She brings together her experience with Western medicine and her passion for Eastern medicine to maximize the care and healing she can offer her patients.