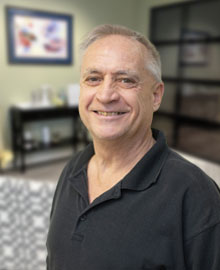 Michael graduated from the Healing Arts Center in December 2009 with a degree in Massage Therapy. Michael incorporates his energy work into his yoga practice and his massage therapy. His style is influenced by Zen Buddhism and is very traditional, healing, and heart-opening.
Prior to becoming a Massage Therapist, Michael completed his degree in Equestrian studies, during which time he began familiar with energy healing through his work with horses. He trained in and instructed Tae Kwon Do throughout the 1980s, and holds a second-degree black belt.
Michael has been practicing meditation for the past 20 years. He began practicing Siddha yoga in 1992, then Hatha yoga in 2000 with Tias Little. Michael is currently a Prajna-certified Yoga instructor. He has taught yoga in St. Louis for the past 6 years. Michael is a musician and brings his drumming skills into facilitating kirtans.
Appointments for Michael can be booked using our online booking system. You may also call him directly at (314) 229-9637.