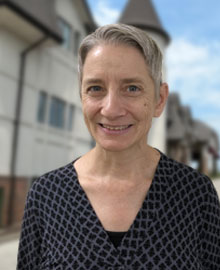 Pamala has a distinguished career as a health care provider and teacher. She specializes in Craniosacral Therapy, Myofascial Release, Trigger Point Therapy, Swedish Massage, Reiki, Deep Tissue Massage, and Stretching/Movement Re-education. With her Kripalu Bodywork certification she brings a meditative, anatomically precise, non-judgmental touch that encourages client body awareness, general well-being and acceptance of self.
Her passion for healthcare stems from her fascination with the architecture and workings of the human body and a desire to provide hands on care to help her patients optimize their functional mobility.
Pamala graduated from Southern Illinois University (1983) after which she worked as a Physical Therapist Assistant, broadening to include Massage Therapy upon completing her certification at the Chicago School of Massage Therapy (1985). She certified in Kripalu Bodywork (2001) and graduated with a Master of Science (Anatomy) from St. Louis University (2012). In addition to her massage therapy practice, she teaches human anatomy in physical and occupational therapy programs at Washington University in St. Louis and Maryville University.
When outside the clinic or laboratory, she can be found taking in nature, hiking, biking and spending time with friends and family.